From the late 1860's and by the turn of the century, Tawonga became a thriving community. When war was declared in 1914, a number of Tawonga and district residents enlisted.
A war memorial honouring the men and women who left Tawonga and district to serve their country was officially opened in Pioneer Park, Tawonga on the eve of Remembrance Day Sunday 10th November 2019.
This project was made possible through grants from the Department of Premier and Cabinet, Victorian Veterans Branch, Kiewa Mitta Murray Community Enterprises Limited, and the Upper Kiewa Valley Lions Club.
Representative images of the respective defence services have been etched on the ball with the intent to provide a story line across the passage of time which will provide current and ex-service personnel, residents and visitors the opportunity to reflect on Australia's commitment to all types of service given by our armed forces. The Ode to the Fallen is also encrypted on the memorial ball.
A stone reflections seat has been constructed a short distance away from the memorial with surrounding plantings.
Local artist Michael Whipps designed and constructed the memorial ball. Michael consulted with local service personnel and has endeavoured to provide a range of air, land and sea pictorial representations including the following: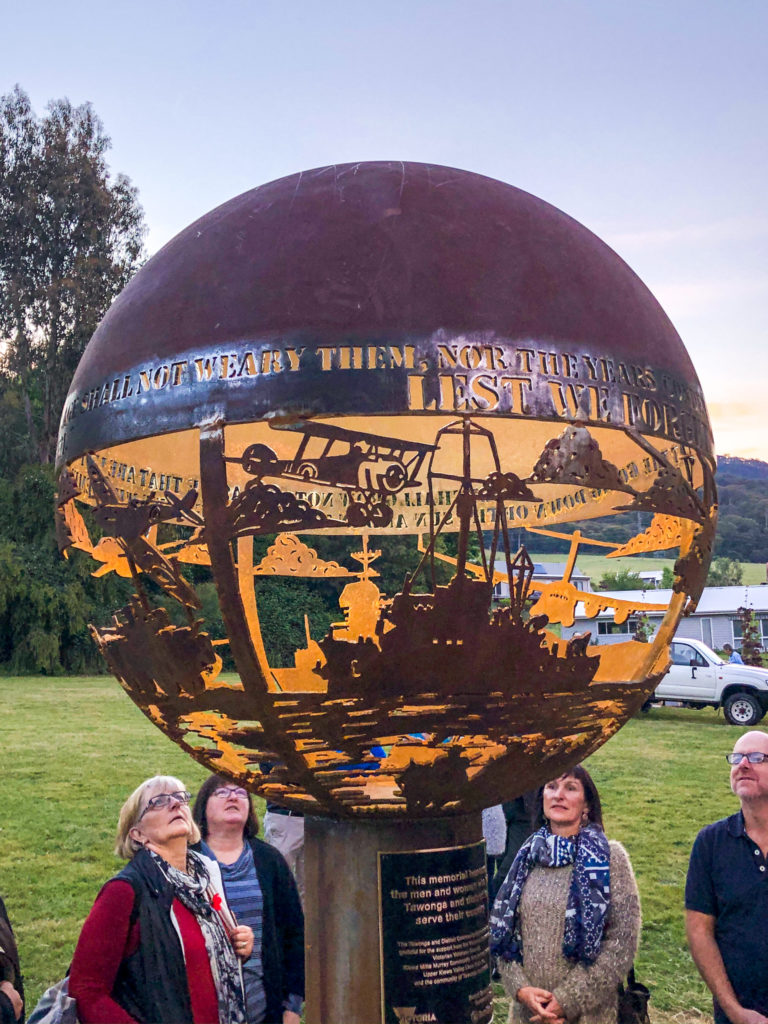 Chinook helicopter- current
DH-5 A9242 Biplane WW1
HMAS Ararat. Bathurst class minesweeper- New Guinea
Light horse men – WW1
Mount Bogong and returning soldier silhouette
HMAS Ballarat. Anzac class frigate – current
C-17 Globemaster 111 – Current
M113 APC – Vietnam
FA18 Hornet. – current
A58 Submarine Spitfire – WW2
ASLAV Armoured Vehicle. – Afghanistan
M1 Abrams Tank – current
RHIB Rigid Hulled Inflatable Boat. – current