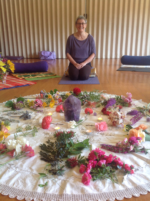 Description
I believe that yoga is a practice that can support an individual through all phases of their life. I have been practicing and teaching for almost 30 years and my practice has developed and evolved to serve my different needs through this time. I think it has enabled me to have more tolerance with the ups and downs of life and to be more present on a daily basis. It has allowed me to embrace and accept my own humanness and my relationships with others.
I see my role when teaching as giving others the tools to come to a greater understanding of their own bodies and minds. I use all of the practices of yoga to help achieve this aim. This includes experiential body work, breath practices, meditation and mindfulness.
The classes I teach are suitable for most people and my therapy training allows me to work confidently with those who may have a variety of health issues. I believe there are yoga practices to serve every "body" and mind.
Classes are run on a term basis. They are held in Mount Beauty on Mondays at 5.15pm, Wednesday's 9.30am and Thursdays 5.45pm.
Send Message to listing owner